Is your closet storage space running out? Are clothes piling up in places they shouldn't be? These are tell-tale signs it's time to reorganize. No need to stress about it. Just check out our 9 DIY storage ideas for clothes that will hopefully solve your storage needs
#1 Detached Wardrobe Rack
A great way to add some much needed storage space to your bedroom is a detached clothing rack. But don't just settle for the additional storage space, you can also make a stylish statement by adding a little industrial flare to your space. There are lots of great industrial style hanfers and clothes hanging ideas online that will walk you through step by step on how to add this clothing storage idea to your bedroom. We suggest this post by Sarah Sherman and her wonderful diy garment rack adds industrial vibes to your room at a low cost and can be knocked out in a weekend. Definitely worth checking out!
#2 Space Under Your Bed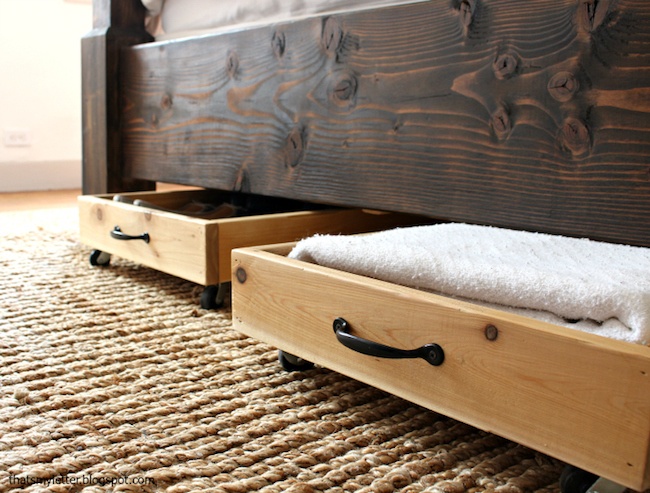 The space under your bed isn't just for dust bunnies and the boogie man. Utilizing the space under your bed can be a great tool to save clothes storage space and reduce the amount of clutter around your room. We recommend storing items such as handbags, shoes and other accessories in bins under the bed and leaving your closet as your main clothing storage space. Keeping your clothes wrinkle free is somewhat difficult if you store clothing under your bed but handbags, shoes and other items can be easily stored under the bed without taking up valuable clothing storage space. Then you'll have more space for clothes storage in your closet. Read more about how to organize your closet and maximize clothing storage from our other blog post : 9 Ways to Easily Organize Everything in Your Closet
#3 Rotate Clothes That Are Out of Season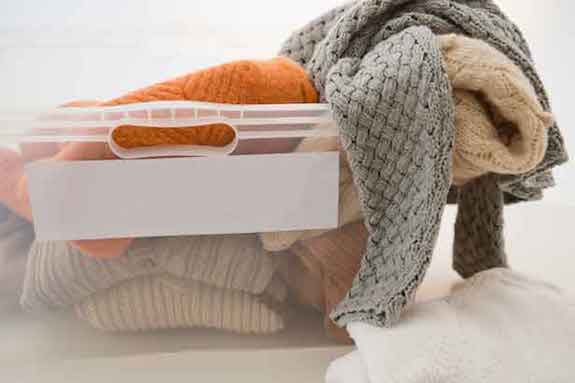 Summer can be a little deceiving in San Francisco and sometimes you still have to bust out a sweater or two but a great way to save some space in your closet is to rotate out clothes that are now out of season. That means that heavy down jacket or rain coat don't need to take up valuable clothing storage space in your closet, and can be either placed in a more out of the way area or be put into storage. If you've ran out of space in your home check out Boombox's storage solution to help out with your clothing storage organization. Out of all the clothing storage ideas this one is by far the best!
#4 Store Out of Style Clothes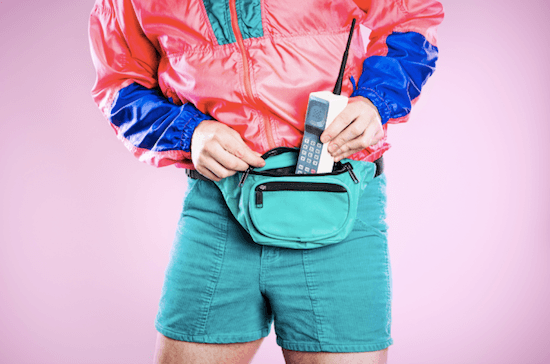 Every style comes back around. Who thought bell bottom jeans would ever come back? Well they did! And if you have some stylish clothing that is a little out of style try storing those clothes in storage bins until they come back in vogue. There are lots of clothing storage units you can find out there but for a full service storage option check out Boombox's storage solution that will keep all your items organized with an online photo inventory of your items. That way when the next 80s party comes along you'll be able to grab that neon jumpsuit and really bring the house down!
#5 Rental Clothing Companies

There are lots of great rental clothing companies out there that give you access to wonderful style while saving hanging space in your closet. You can try clothes for a month and then send them back, which helps prevent clothes from piling up in your closet space. We recommend checking out Rent the Runway if you would like to try a clothing rental company out. They even offer free shipping! : )
#6 Add Storage Bench to End of Bed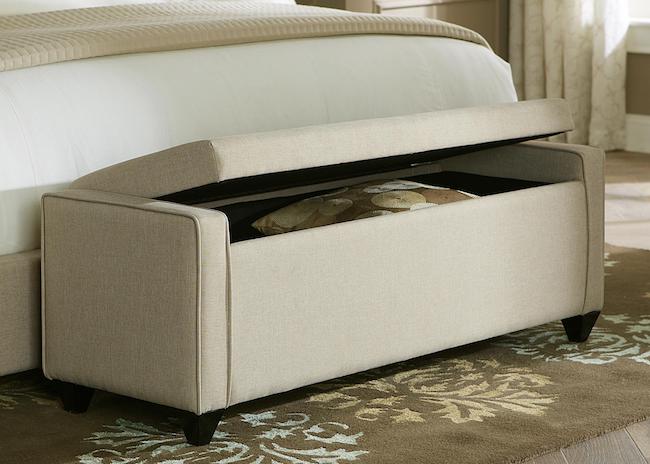 This is an easy one. If you have a little extra space at the end of your bed, you should absolutely consider placing a stylish storage bench there to maximize your storage space. Excellent organizers, there are lots of inexpensive benches that are stylish and can be a big boost to your clothing storage space. To get your search started check out this wonderful storage bench by Living Spaces. There are also a lot of diy storage ideas for clothes that include plans to make your very own end of the bed storage bench. We'd recommend looking for diy projects on Pinterest to find out a plan that works best for you. There are a lot of projects that you can find that don't require heavy duty tools or equipment.
#7 Donate clothes every 6 months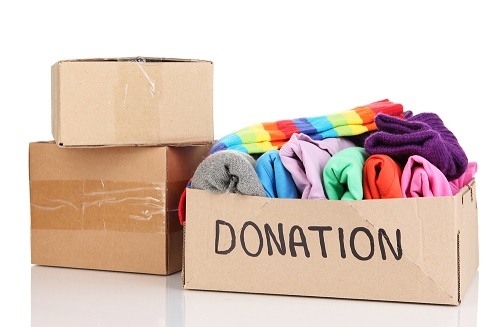 Marie Kondo was onto something. If it doesn't "Spark Joy" then maybe you should try donating your items to a local charity or Goodwill. It's not a bad idea to go through your closet every 6 months and mark items that you can part with and set them aside to donate. To find out more information at donation centers near you check out Goodwill's website to get your search started.
#8 Look to Other Rooms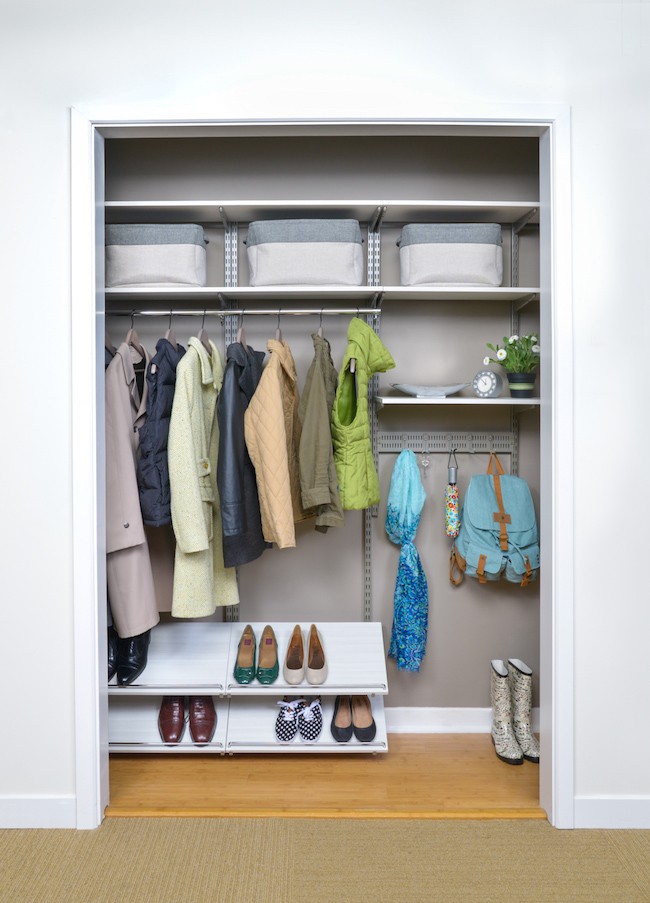 Another clothes hanging idea is clearing a temporary closet for those desperate for more ways to store clothes. Try using a hallway closet or living room storage area for your extra clothing items. Stock up on extra hangers and plan out organization techniques to keep track of your items that are hanging in other closet spaces around the house. Once you've done a little organizing in other areas of your house you'd be hard pressed not to find some extra space to store stubborn clothing items that won't fit in your current closet space. Make sure to store clothing items in other rooms that aren't necessarily worn to often and can be set aside for longer periods of time. These clothes hanging ideas are great for utlizing other areas of your house.
#9 Use Boombox!
Boombox is a full service storage company that manages the pickup storage and delivery of your extra things. If you are looking for ways to store clothes definitely give us a call. We photograph each one of your storage items so your items will always be accessible and organized online. Think of Boombox as the ultimate organizer. All your items are just a click away instead of schlepping your items across town to a storage unit for your clothing. If you are wondering how to store clothes in a storage unit this is the solution for you. Our climate controlled warehouse makes sure your clothes come back the same way as when you put them in! Check out our storage unit prices here and start storing your clothing items in style : )