#1 Shelving, Shelving, Shelving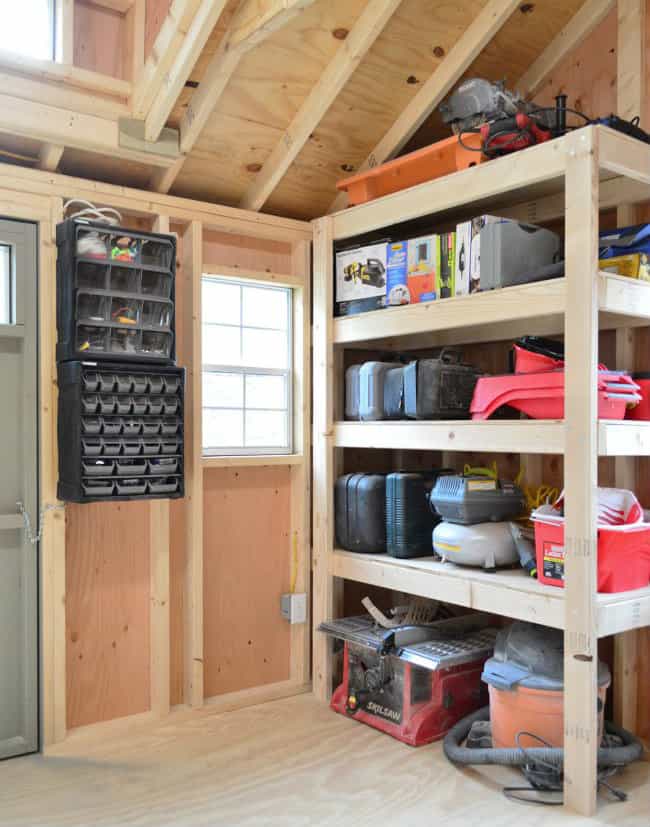 In real estate it's location, location, location, for shed organization its shelving, shelving, shelving. Choosing the right shelving can make or break your shed organization. You want to be able to maximize your space but also make sure it's functional. You want your shed to have ample shelving space but make sure to not overcrowd your shed since you want to be able to access each shelving unit easily.
If you are handy with carpentry then we recommend adding custom shelving to your shed. That way you can maximize the storage space to meet the dimensions of you shed. If not, you can easily add free-standing metal shelving or adjustable storage racks, which you can pick up at any home improvement store.
#2 Install a Pegboard
Pegboards are a little old school but they are definitely still effective. Pegboards are one of the more flexible tool shed storage ideas, since they work for almost any shaped item and can grow as your collection grows.
The best way for how to organize your shed with a pegboard is simply fix it to one of the walls of your shed, and then use brackets and hooks to hang tools or other storage items. Pegboards are a simple, easy and effective storage shed organization tip.
#3 Have Fun with Magnets and Install a Magnetic Tool Holder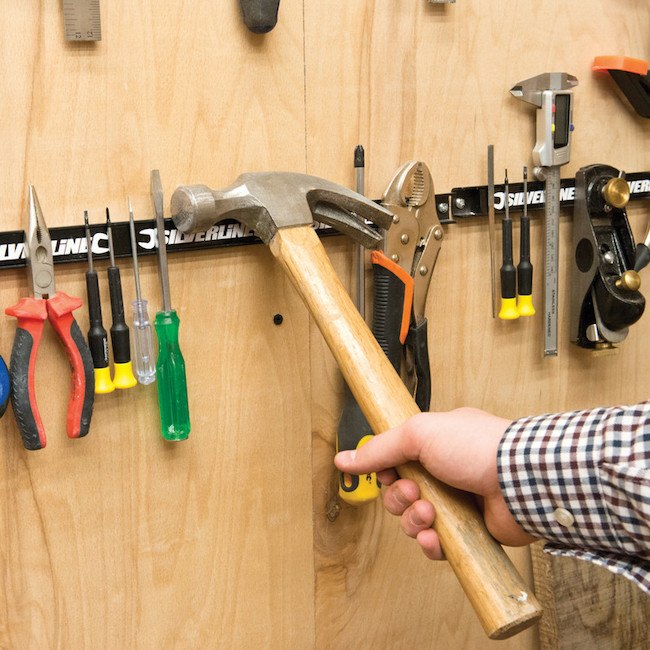 Let's face it magnets are fun. But they aren't just fun they are also one of our favorite shed storage ideas. Metal tools can stack up quickly and easily become unruly. However, having a magnet strip set up on your shed door or wall can easily organize your pile of metal tools and declutter your shed space. Not to mention they are easily accessible for whenever you need to grab your hammer or screwdriver.
One of our top shed organization tips is storing paintbrushes on your mag strip. The bristles won't get busted and they will dry out easier after you have washed them. Just keep that one in your back pocket
#4 Make Sure You Got a Proper Workbench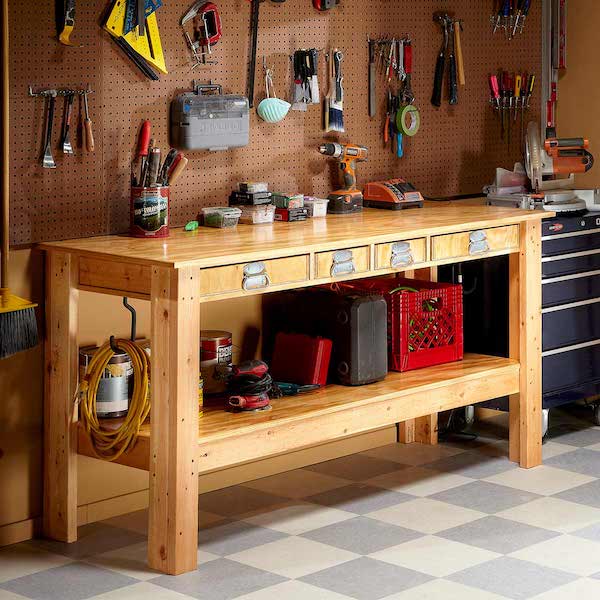 A solid workbench is the heart of any shed. Not only can it be a great way to organize small tools, nails and screws but it can be a great surface to put those tools to use. Make sure your workbench has a couple of drawers or a place to add a couple storage bins. This is a must have if you are looking for useful tips for how to organize a storage shed.
There are plenty of fun and creative diy projects online to creating your own workbench. If you are looking for some diy shed plans make sure to check out Insteading which is a great source for any shed or gardening project.
#5 Small Item Organization is Key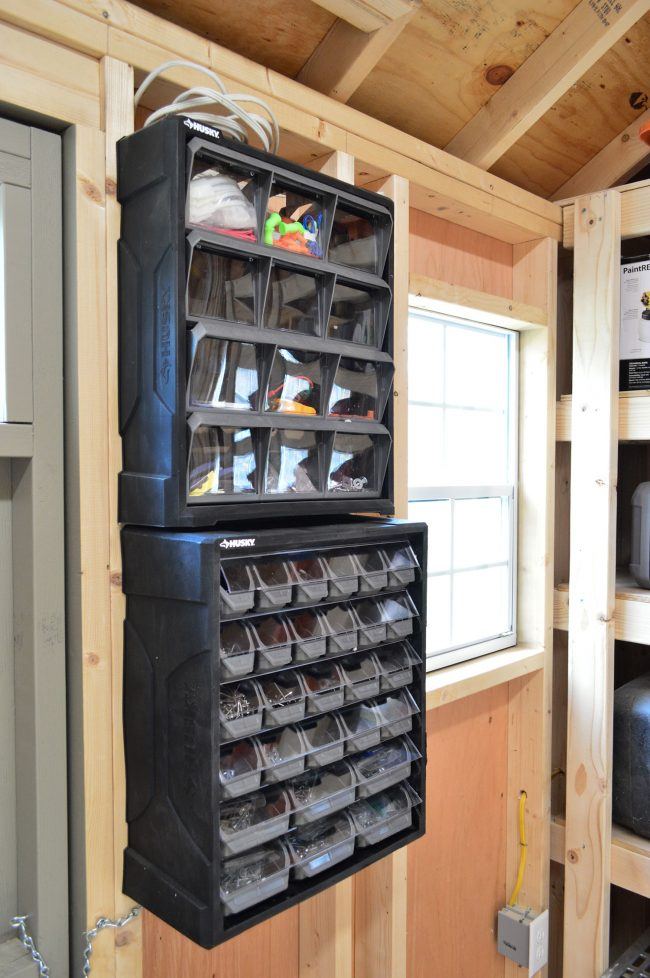 When it comes to organizing a shed, organizing the smaller items might be the most difficult. Make sure to get drawer organizers that can keep your nuts and bolts all tidy and in their specific places.
Another one of our shed organization ideas would be to use mason jars for nails or screws to keep your smaller shed items organized. Nothing is worse than being in the middle of a DIY project and not being able to find the right nail or screw. This way you'll always find the right tool for the job.
#6 Keep Gardening Chemicals in Storage Boxes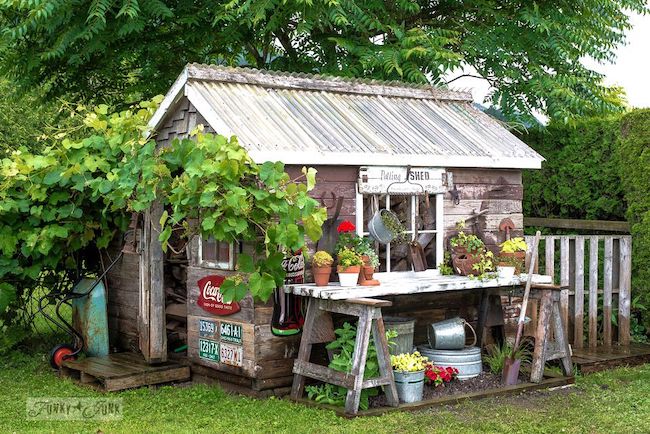 If you are using your shed for gardening then chances are you will probably be storing weed killer, manure, or some other smelly material. When thinking about how to organize inside of shed, make sure to keep these items in closed containers so your shed doesn't smell or worse become toxic.
By placing these items in storage container you can ensure they are all in one place and kept safe from outside exposure. Make sure to always keep these materials out of reach of children and pets.
#7 Hang Hoses and Extension Cords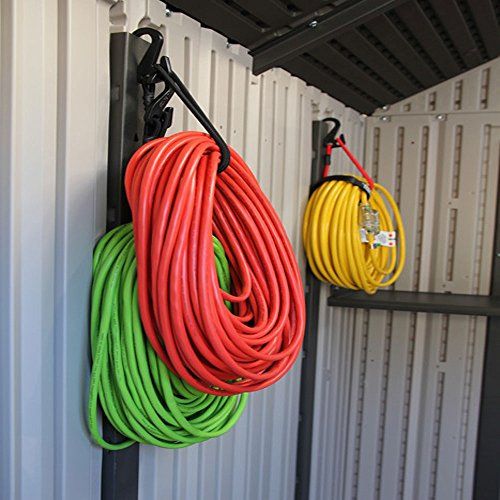 One of the easiest storage shed organization ideas is to hang your hose and extension cords on hooks. No one likes tangling with hoses or cords, and they can easily take up a lot of floor space if not properly stored. We recommend drilling hooks into the wall or ceiling to get the most out of your space and keep your items organized properly.
#8 Shovel and Gardening Tool Hooks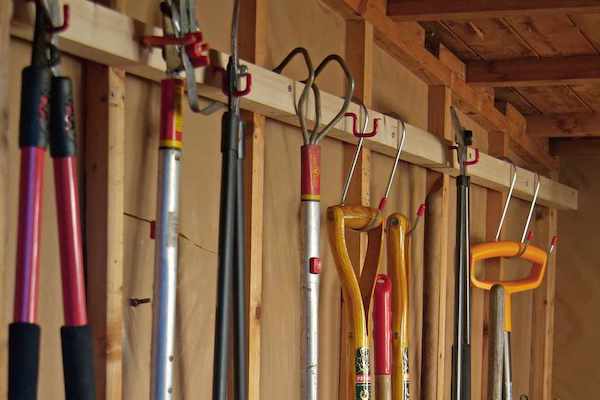 Gardening tools are best stored hanging vertical from the wall of your tool shed. They can even be stored on the outside of your shed. Simply install a couple hooks by drilling them to the wall and place your shovels, racks, and any other gardening tool you can imagine on a hook. They'll be organized and easily accessible for your next gardening project.
#9 Repurpose Old Furniture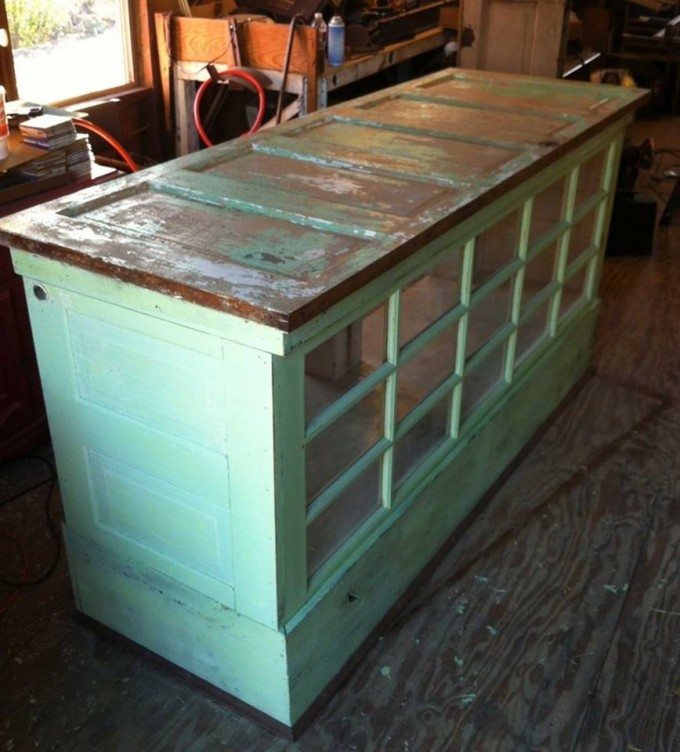 One of the less obvious ideas for how to organize a shed is to try and repurpose old furniture. You might have a beat up desk that can be reused as a workbench or an old dining table that would be a great work surface. Instead of throwing those items out see if you can use them in your storage shed for either more storage space or a good work surface.
#10 Think Vertically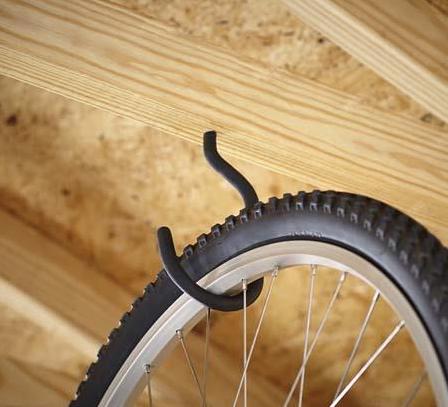 When you run out of floor space make sure to look up. You can maximize your storage space by taking advantage of your storage shed's vertical space. Make sure to employ vertical shelving, hooks or pegboards to get the most out of your space.
#11 DIY Power Tool Storage Rack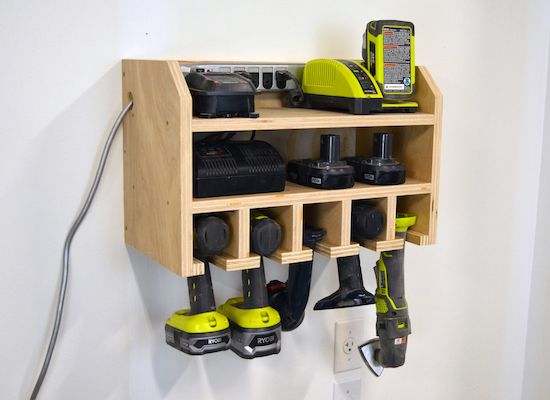 One of the more advanced storage shed organizer ideas is to create your very own power tool storage rack. If you do a lot of wood working and like to keep all your power tools in one particular spot then look into creating your very own storage rack.
There are plenty of diy plans online that are simple easy and effective.