Bedroom Organization Tip #1 Under the Bed is Your Friend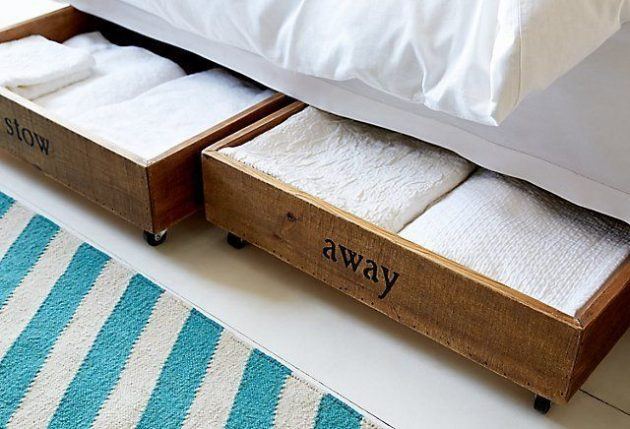 If you're wondering how to organize a small bedroom, the best place to start would be to utilize the storage space under your bed. There are many great bed frames that come with additional storage built-in, so if you are searching for a new bed frame we recommend taking a look to avoid unnecessary clutter. You can never go wrong with additional storage space and out of all the storage ideas this might be the most simple way to gain some extra space. Make sure to check out Apartment Therapy's blog post on The Best Storage Beds to find some inspiration.
The extra space under your bed is a great place for organizing and storing items that you don't use very frequently like seasonal decor, winter clothes, or camping equipment. Since it can be a little difficult getting items in and out of storage containers make sure to prioritize your house items and place the least used under your bed.
Room Organization Tip #2 Door Hanging Hamper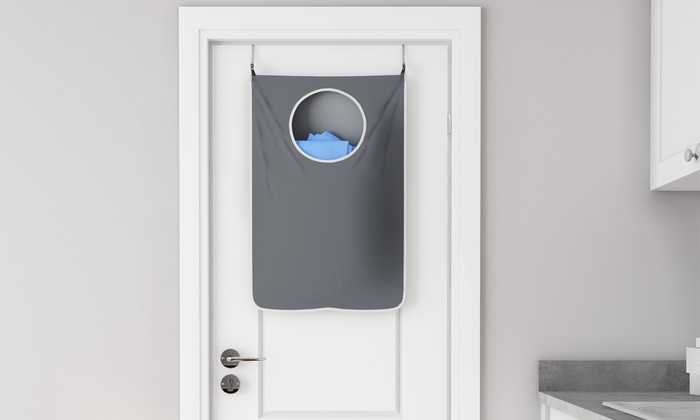 Everyone's definition of DIY is a little different, so for this tip we kept it as simple as possible. This truly is a DIY bedroom organization tip since all you have to do is either click of couple buttons on Amazon or get your butt down to Target for a hanging door hamper . There are a ton of options to choose from and you'll be sure to find one that fits your style.
Not only are hanging side hampers great for keeping dirty clothes off the floor, but they will also save you some closet floor space as well. With the closet floor space you'll save, you can easily add a shoe rack, or additional shelving for your clothes.
Bedroom Organization Ideas #3 Hang your Artwork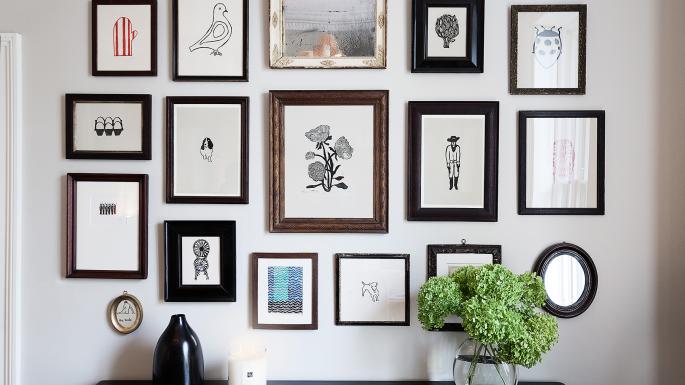 Artwork can brighten up any room in the house and transform it into a reflection of your style to create personality. However, don't let it get in the way of your favorite valuable dresser surface space or nightstand space. Hanging your artwork on the wall ensures that any storage furniture you have in your room has a clean surface for you to place other important items. If you've ran out of ideas for how to organize your room, then make sure to apply this simple hack.
This will also give your room a nice streamlined feeling if all furniture surfaces are clear from knick-knacks and other side items to maximize free space in your bedroom. Not to mention it makes cleaning & organizing your furniture so much easier!
If you haven't hung a piece of art in a while make sure to check out this How To Guide on How to Hang Art Like a Pro
Ways to Organize Your Room #4 Get a Basket for Extra Pillows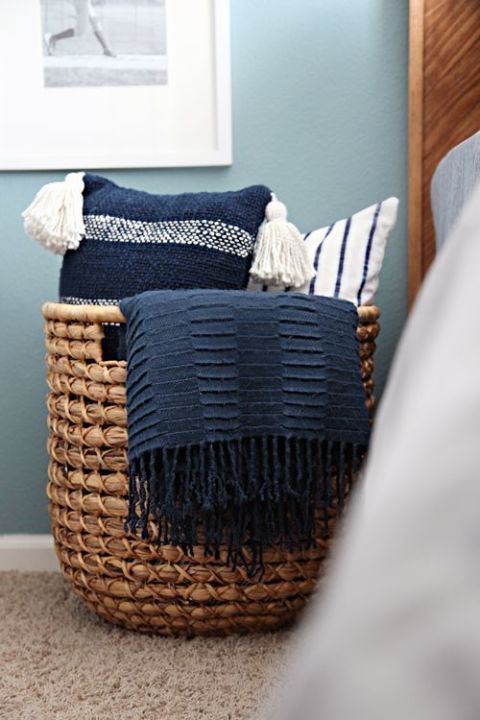 Pillows can make or break the look and feel of your bed, but often times we have too many favorites and they end up on the floor. Instead of chucking your side throw pillows on the floor every night before you go to bed try buying a stylish room organizer diy basket so you can easily keep your pillows organized in the corner of your bedroom.
Bedroom Organization Tip #5 A Stylish Waste Bin Goes a Long Way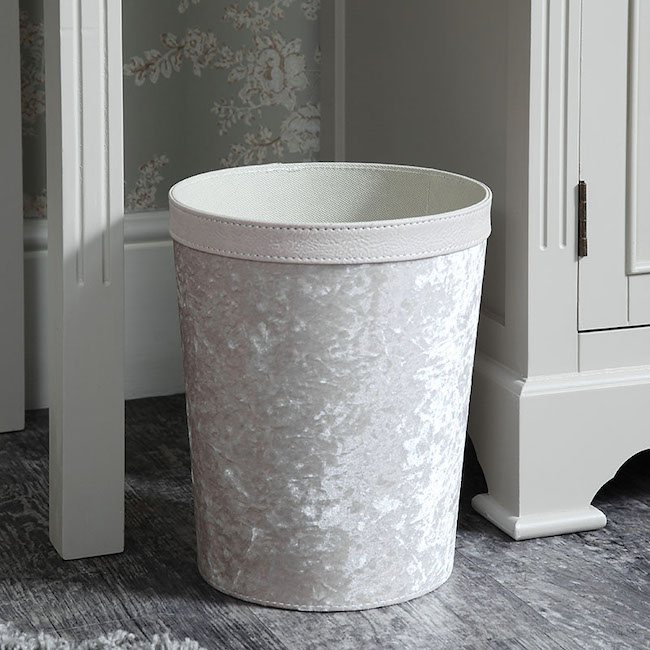 Often times a waste bin in your bedroom is overlooked. You'll have one in your kitchen, obviously, and your bathroom, but the bedroom not so much. Waste bins in your bedroom can eliminate any built up trash that accumulates on your nightstand or dresser. Let's face it, we've all had those moments when we were too lazy to throw a piece of trash away in the kitchen because it meant leaving our bedroom. So make sure to grab a functional, and fashionable waste bin to place in an unused place in your bedroom.
Bedroom Organization Tip #6 Organize by Furniture Item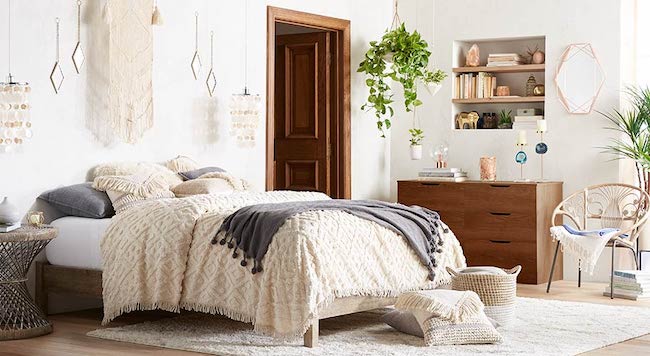 If you feel like your bedrooms have gotten out of control and you don't know where to start, try divvying up the organization work by furniture item. That way you'll make a daunting task seem more manageable. Because we all know DIY room organization can seem like an endless task. We all know the best way to eat a whale is one bite at a time right! This way you won't have to spend hours upon hours one day trying to get organized. Simply dedicate an hour to one furniture item in your bedroom each night until your room feels like you've tamed the mess.
Bedroom Organization Tip #7 Choose the Right Nightstand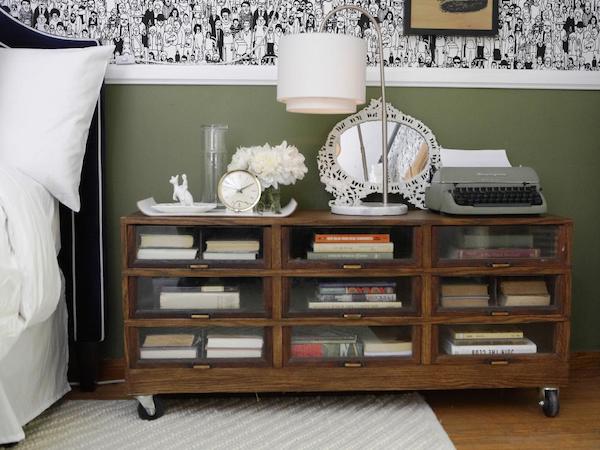 The right nightstand makes a big difference. You might need extra storage space for clothes, or shelving space for books. Make sure to plan ahead on what you need to be stored before purchasing a nightstand. There are plenty of nightstands to choose from and each can serve a unique storage purpose.
For those with a lot more clothes then most try buying a nightstand with a couple of drawers in it, so you can store extra clothes that didn't make it into your closet or dresser. For someone who would like to display books or other collectibles look for a nightstand with tiered space to show off and organize your items proudly.
Can't seem to make up your mind on what nightstand is for you?? Check out Inspired to Style's post on How to Pick the Perfect Bedside Table
Room Organization Ideas #8 Blanket Baskets are Key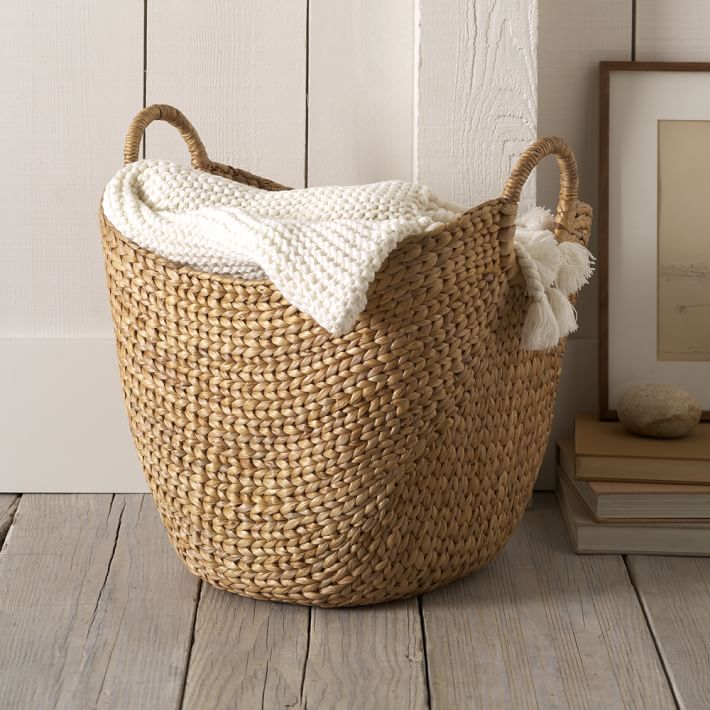 Looking to tackle some room organization diy this weekend, then this tip is for you. This goes hand in hand with the basket for pillows and you might even be able to combine the two. Blankets more often than not can get left on the floor after use and become an unfolded eyesore. If you have a pillow or blanket basket in your room you can easily toss your additional blankets in the basket to maximize your floor space and look more organized.
Bedroom Organization Tip #9 Give Boombox a Try
Boombox is a full-service storage company that manages the pickup storage and delivery of your extra things. If you are looking for how to organize a small bedroom with a lot of stuff then make sure to give us a call. We photograph each one of your storage items so your items will always be accessible and organized online. Boombox is one of the best ways to organize your room, because it involves no hassle and all your items are just a click away instead of schlepping your items across town to a storage unit for your clothing. Check out our storage unit prices here and start storing your items in style. : )
Bedroom Organization Tip #10 Get your Hands on a Headboard with Storage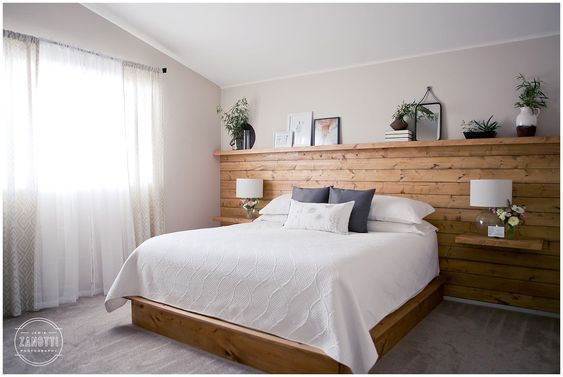 There are plenty of great stylish headboards out there that can not only make a design statement but can give you a little extra storage space. Make sure to find a headboard that either has a couple of shelves for organizing incorporated or even a couple of drawers. Trust us, you can never go wrong with extra storage space.
Bedroom Organization Tip #11 Closet Hooks Can Help Big Time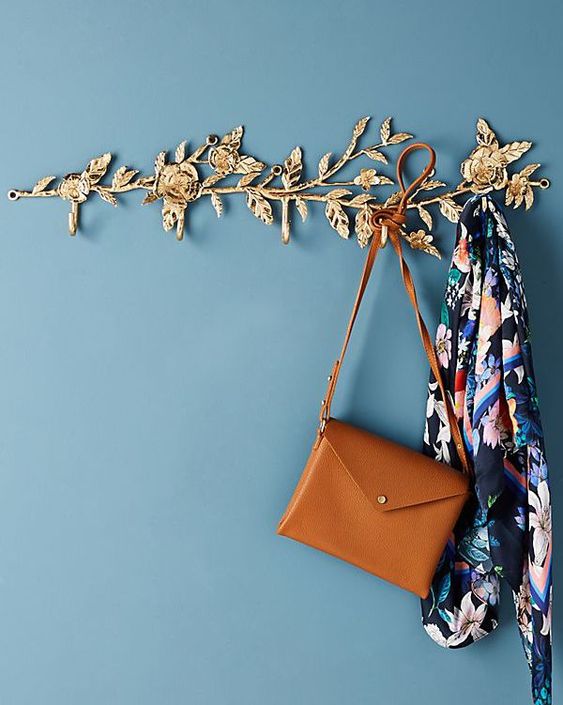 Keeping bags, and other clothing off your floor is much easier if you have a couple of closet hooks on the backside of your door or on the wall. If you're in a rush it's tempting to throw your items on the floor if you don't have an easily accessible and quick place to put them. This simple room organizer DIY trick is sure to keep clothing from piling up and can be a great way to display stylish hats or jewelry. This is one room organizer DIY tip that's easier to implement and you'll start noticing the difference immediately.
Looking for some other tips and tricks to organize your closet? Check out our post 9 Creative Ways to Store Your Clothes.
Another great resource for checking out San Francisco storage options is from our friends a Moving Waldo. They are a great resource for helping you plan your next move.